Brochures & Posters
Brochures & Posters are the spearhead of marketing efforts: their purpose is not only to inform the customer about the products or services you offer, but also to emphasize the fact that you offer better solutions than your competitors.
The creation of such an important tool for your business needs to be left in the hands of professional designers. Our experience and skill ensure that the brochure we create for you will be positioned by the side of important marketing pieces of other large corporations, but you will pay only a fraction of the price these companies spend on their designs.
Brochures are one of the most important materials your business may give out. The appearance of the brochure can be used to your advantage by showing that you are a well established and professional company. Many people subconsciously make decisions about a product based on how it is presented so it's important to have a brochure that looks good and stands out from the rest.
No matter the quantity of different solutions we provide or the simplicity or complexity of your requirements, our approach to your needs is always the same: working closely with you, listening to your feedbacks, and refining our work until your expectations are not just fulfilled, but exceeded!
Poster design for Purusham - Men's Design Studio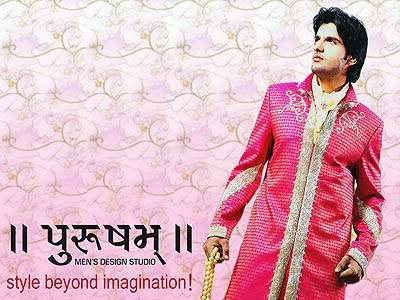 Brochure Design for Krystal Aqua - Packaged Drinking Water